'The Night Circus' Book Review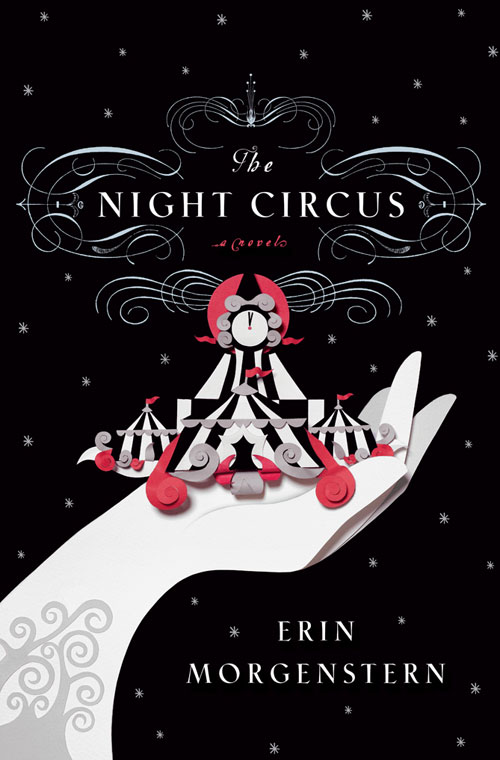 My super fabulous trainer Nicole decided to start a book club and while I was a bit, um, nervous, I said I'd join.
Why was I nervous, you ask? Because I'm a picky reader. I have my favorite genres and I tend to stay in my comfort zone. Telling me to read out of that zone is akin to pushing me from an airplane at 20,000 feet with some silly string and a pillowcase. I'd really rather not, thank you very much.
And that is precisely why I decided to join the book club. I need to stretch my reading wings and discover books I would never pick up on my own.
Our first meeting was a few weeks ago and we read The Night Circus by Erin Morgenstern.
It's hard for me to read a book as just a reader. I find my writer's mind keeps cycling through the words as if trying to pick apart where the author 'showed' rather than 'told' the story. Or, I'll get caught up in what rules the writer is breaking and how did the book ever get past the slush pile? My writer's mind can be very irritating at times.
Only when a book truly takes me away do I turn off the writer in me and just allow myself to be transported to another world. When that happens, it's magic of the best kind.
If The Night Circus wasn't a book club choice, I wouldn't have made it past the first fifty pages. Ms. Morgenstern breaks so many writer rules that I kept getting cranky. She switches character point of view often within a chapter, making it hard to understand who we are following at certain times. The narrator is either omniscient or third person, depending on the chapter, and she jumps around in time. One chapter might be 1896 and the next, 1902 and back to 1894. It takes a while to understand the plot and get a feel for the characters.
Once I got past my writer angst, I let myself be absorbed into the world of the circus. Once past those first fifty pages, I started to enjoy the book. More than I thought I would, actually. I relaxed and let the book take me away to a place where magic is more than just illusion. The only problem then was that I just wanted more. More… what? I wasn't sure.
The plot is simple ~ two men choose a competitor for a challenge. Only the victor will survive. Got it.
The competitors, Marco and Celia, know they are chosen, but don't know when the competition will begin or what the rules are. Um, okay. I think.
Once a venue is picked for the competition (the circus), Marco and Celia have to outwit each other in… wait for it… room design! No, seriously. Each one of them tries to make a better room, be it an ice garden, a huge labyrinth, a room with a black tree and candles where you make wishes, etc. I didn't really understand the whole 'rooms are the death-til-the-end! competition, but the way the rooms were written made up for it.
There is a large cast of characters in the book, some I liked more than others. Some I wondered why they were there at all. I wanted to love Marco and Celia, but they are written at arms length and I had a hard time feeling any empathy for them as they 'battled' one another. When there finally was a love scene, I felt cheated out of an opportunity to bond with them. Moreover, I felt they were denied something promising. Not only did I want more for myself as a reader, I wanted more for them. Love, happiness, a future, anything!
I confess, I like happy endings. I'm not exactly sure what this ending was, but I didn't feel happy at the end of it. When a book grabs me I don't ever want it to end. I want to know what the characters are doing after I read the last word. I want to know they will thrive in their made up literary world. When I closed the cover of this book I thought, Meh.
Ms. Morgenstern spends quite a bit of time detailing the clothing and elements of the circus (the tents are black and white stripped, got it. Don't tell me that six hundred times), and not enough time answering the questions she teases the reader with. There are several missed opportunities for the book to raise above and it stays stagnant. It gets too caught up in being tricksy and 'ooh, look at that sparkly thing'. Cute gimmicks, but they wear thin after a hundred pages or so.
Out of five quills, I'll give this book three. I didn't love it, I didn't hate it, but the story resonated with me. A scrap of description here, or a bit of Marco and Celia's love story there, will float through my mind at odd hours of the day. I'll keep it on my bookshelf and maybe someday take it down to read again.
Everyone at Book Club enjoyed the book. Some were confused by it and others thought it was the best they've read in a long time.
Have you read The Night Circus? What did you think of it? What are you reading now? If you've got a book to recommend, I'd love to know about it!